English Decorations - Bankers Lamp
Always in stock, delivered in
4 to 6 working days.
Delivery charge Europe € 19.95,-
Delivery charge rest of world € 23.95,-
Typical English Bankers Lamps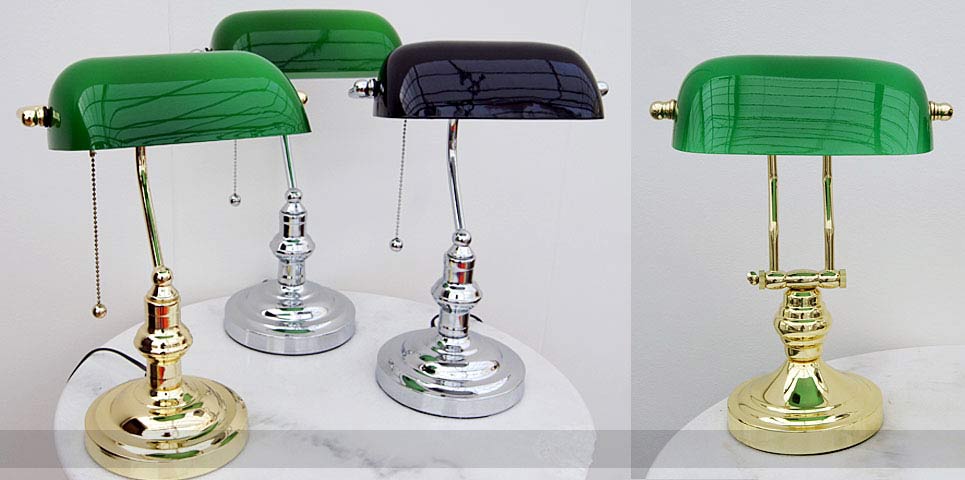 Best Sellers , QUICK DELIVERY.
---
The origin of the Emeralite Bankers Lamp
The first Emeralite Bankers Lamp was produced in 1909 after being invented by American engineer Harrison D. McFaddin. Until the second world war, these Bankers Lamps featured the characteristic emerald green glass shade. This is actually why the lamp is called the Emeralite, which is a combination of the words emerald and light.
Although the company continued to produce Bankers Lamps after the second world war, they moved away from the green glass shade. Today, the prewar period lamps with the green glass shades are the most popular.

Most bankers lamps have a design featuring a green glass lamp shade, typically fitted to a brass base. However, we offer them in all sorts of colors and variations.
English Decorations, our own Bankers Lamps
The banker's lamp is an iconic lamp, and a very typical model for English light decoration. This lamp fits perfect on the desk to light you up while working, as the lamp always has done in the old English banks. This lawyer lamp has a distinctive glass shade, often executed in green or black. In addition, the classic bank lamp has a beautiful drawstring, which can switch the lighting on or off.
We also offer desk lamps in Tiffany design, which have their own identity. In any case, the banker's lamp is indispensable for a wooden desk for example, and still exudes a classic allure of class and style. At English Decorations you will find the highest quality bank lamps in many types of versions and varying models.
New in our assortment
We have 3 new models of our English Bankers lamps with a vintage look.
Two new bankerslamps with wooden feet and one chrome bankers lamp with a white glass shade.
All 3 new models of bankers lamp come with a pull chain on and of switch, and are neatly packaged.

Our bankers lamps are suitable for the home, office and complement our English desks and writing tables.

A lamp of maximum 60 Watt fits in the E27 fitting. Energy-saving lamps can also be used.
The Emeralite green glass shade
The shiny, green glass shades were made using the cased glass technique.
This is when you create a single glass piece by fusing two or more glass layers with different colors. The Emeralite Bankers Lamp glass shade only had two layers where the inner layer was white opal glass, and the outer layer was the colored green glass.
Broken shade !!!!
- No problem.
We offer a replacement Bankers Lamp glass shade for a reasonable price.
Just ensure that your old broken shade can be removed and check the sizes with our
replacement Bankers Lamp shade.
Always in stock for quick delivery.
Replacement glass for Bankers Lamp
Tiffany desk lamps and Bankers Lamps
In addition to the classic English lawyer lamps, English Decorations also has a large collection of Tiffany lamps. These distinctive lamps have their own style, with a characterizing stained-glass version in the lampshade. The lampshade stands like a crown on the ornate fixture, and these lamps exude elegance, colour and style. The stained glass in the lampshade makes it possible to carry all kinds of different shapes in the design. For example, some Tiffany lamps are designed with very clean lines, while other Tiffany desk lamps show dragonflies and graceful shapes. This is what makes every type of Tiffany lawyer lamp so unique and a great asset to your interior.
The Lawyers Lamp is real Art Deco
The banker's lamp is designed in the typical Art Deco style. This was a graceful and proud style that became extremely popular in Western Europe at the beginning of the 19th century. The green and black colours were the lampshade is issued are therefore typical of this Art Deco style. Nowadays, Art Deco is completely retro, and desk lamps like the bankers lamp are also regularly found in the modern interior. No wonder, Art Deco is a very sophisticated style whose appreciation does not just vanish. This makes the bank lamp ideal for any interior, without getting out of fashion.
The Banker's Lamps from English Decorations
English Decorations specializes in furniture, lighting and other accessories that are executed in a classic English style. The classic banker's lamp, also known as a lawyer lamp, can obviously not be missing in our collection. This lamp has been shining a helpful light on many a desk and bedside table for years and has a timeless and stylish design. English Decorations has the best lawyer lamps online and offers all kinds of different models of high quality for a competitive price. This ever-popular lamp will serve you for years to come and is also a pleasure to look at with the light off.
Classic Banker's Lamps of high quality material
The banker's lamp is made up of the typical brass fixture. This sturdy heavy material makes the lamp very stable. At English Decorations we also offer the armature in chrome, which gives a nice reflective effect. The lampshade itself consists of high-quality glass and is built up of no less than two layers. The inner layer of the lampshade is made of white, so that a strong functional light can shine on your desk. However, the outer layer of the lampshade is made of green, which gives a nice, relaxing green glow to the spectators.
Easy adjustable desk lamps
The banker's lamp is pre-eminently adjustable. This way you can often adjust the height of the lawyer lamps exactly to your preference, and you can easily rotate the lampshade to let the light fall on your desk at an ideal angle. There is also a handy and typical pull cord attached to the lawyer lamp, so the lighting can be turned on and off with little effort. The high degree of adjustability of the desk lamp makes this model, besides stylish and elegant, also very functional. That is typical of English Decoration: the perfect balance between comfort, functionality and beautiful design.
Bankers Lamps from our warehouse to your front door
In our online shop you can view and order our lawyer lamps with great ease. Maybe you would like to have a nice banker's lamp on your desk yourself, or maybe you are looking for a luxury gift. With English Decorations you are at the right address. We order the iconic lamp directly from our Far East suppliers, so we can guarantee that you order a truly Classic design of the best quality. These products are packed with great care, so you will receive the product in the best condition. Via Track and Trace from TNT (in the Netherlands) you can keep track of your order, and before you know it, the banker's lamp will shine on your desk !
View the Lawyers Lamp in our showroom
In addition to the collection of lawyer lamps in our online shop, you can also view the bank lamps in our showroom. We have a branch at five minutes from Schiphol Airport. Here you can see for yourself how our banker's lights sparkle and experience the high quality. Perfect if you do not like online shopping or if you would like to compare different models. After all, a classic banker's lamp can differ quite a bit from a Tiffany desk lamp or a wooden book lamp. Come and visit our store, or shop safely and easily in our extensive online shop !
Also view our other Desk Lamps
Besides the classic English banker's lamp and the colourful Tiffany lamp, English Decorations also has a collection of other beautifully designed desk lamps. For example, we offer the fashionable 'book lamp', which consists of a pedestal of books and a luminaire in which the back of a classic English book can be seen. The large silk lampshade covers the entire light source, allowing a soft light to shine into the room. This lamp is ideal for the bedroom on the bedside table but can also provide the desk with a nice lighting.
English Decoration has all kinds of desk lamps, from classic to modern and from Art Deco to retro. In any case, they have one thing in common: they all radiate an unadulterated English class, whether the light is turned on or off.