Free Delivery in Holland and Belgium
for Purchases over € 100,-
Welcome to our online store.
All our Tiffany Lamps, Desk Lamps, Bankers Lamps and other English gifts that we sell in our Amsterdam store can now be easily purchased with confidence.
Our Tiffany Lamps and Desk Lamps make an original gift that can be delivered to your door in 2-3 working days from date of purchase.
We have specialised packaging so that your new Tiffany Lamp will arrive at its intended destination without damage.
Tiffany Lamps
This month bestsellers

LUMINOUS TIFFANY LAMPS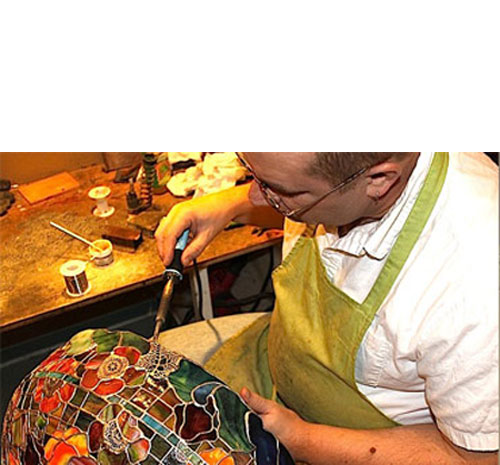 Tiffany lamps
how we make our lamps
Louis Tiffany is the artist who invented a method for assembling glass pieces with tin solder.Before using tin, Tiffany used lead which was not as strong and too big to do refined work, so the use of tin was a revalation.Our lamps are not the 'real' antique tiffany, ie: they are not even made by Louis Tiffany (These orriginal antique lamps cost millions), but are made according to his method of real tiffany glass, handmade and welded together with tin.Our Tiffany Lamps are made with great care, and with authentic materials (real stained glass) to the highest quality.
Our Tiffany Lamps are made in China using the same traditional method developed by Louis Tiffany, stained glass soldered with tin and hand assembled. Our lamps are extremely strong. All the classic Tiffany glasses are used,opalescent,ridged,spotted,wavy,hammered,confetti and others.All our Tiffany table lamps and standing floor Tiffany lamps are equipped fully wired, with on and of switches and with an electric plug.Each fixture comes with custom packaging and a styrofoam to ensure safe delivery.