White baroque mirror Venice in 5 sizes
Delivery

We have our own delivery team and we deliver free in Holland and Belgium.
We also offer free delivery in certain parts of France and Germany.
For the rest of Europe, we send your orders with DHL or with shipping companies

with whom we have successfully worked together for many years.
The smaller mirrors are boxed then packaged in high density foam so that breakage is virtually impossible.
For the very big mirrors we construct special pallets so that once again, breakage is virtually impossible.
Please see below for examples.
The transport company collects your order from our warehouse.
It is then delivered to a depot close to your address.

Next the transport company will contact you to arrange a day and time when they can deliver to your address.

Payment in our Online shop :

We have the normal methods of payment, Credit Cards PayPal or iDEAL Payment.

You can also choose to pay through your own bank :
Fill all the forms in telling us what you want and your contact details.
We will then e-mail you an invoice asking for payment to be made into our Dutch Bank account.
On receipt of payment we will dispatch your order and confirm everything with you by e-mail and telephone.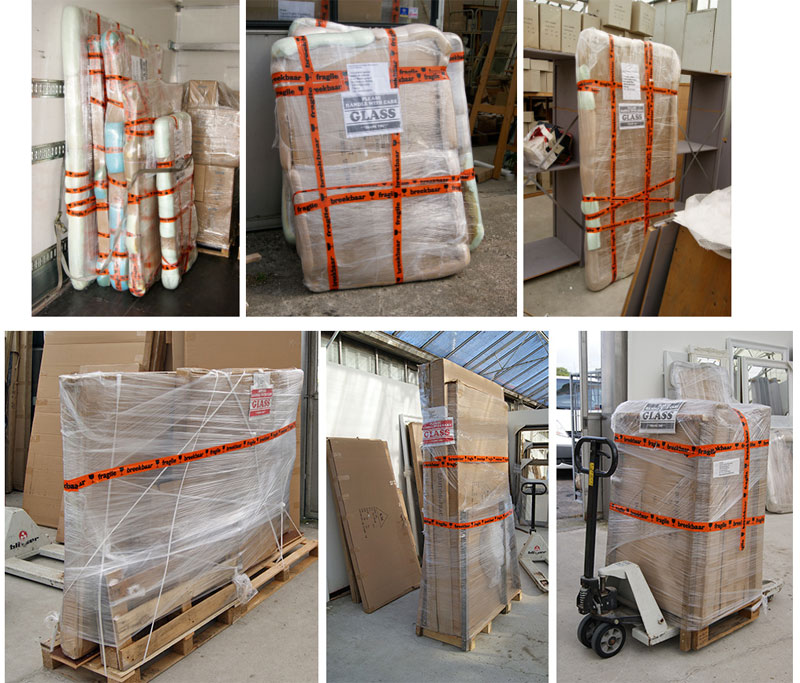 Solid wooden frame and beveled glass.
On the back of the mirror there are two pairs of hooks so the mirror can be hung horizontally or vertically.
One of our most beautiful mirror frames.
Outside frame size:
95 x 125 cm € 245,-
95 x 155 cm € 335,-
95 x 195 cm € 395,-
115 x 215 cm € 550,-
135 x 235 cm € 650,-
All our prices include B.T.W.
Come check out our showroom, or order directly on line.